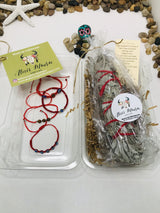 Boho Cowgirlz Boutique
White Sage 9" California White Sage
Choose your quantity! White Sage Smudge Sticks 9 Inch (each bundle is 9 inches long and about 1.5-2 inches thick!). Also included is our small 2 page instructional guide complete with blessings.
Whether it's purging a room of bad energy and clearing the way for a positive path, helping silence negative inner thoughts, inspiring self-growth or attracting success and wealth...
For a gift that's sure to be cherished, bestow a friend or family member with these age-old tools and all the spiritual & emotional benefits that come along with them!
All of our sage is intended for spiritual use - cleansing, smudging, meditation, yoga, relaxation/stress relief and more.
White sage is an excellent ritual tool for cleansing and certainly our favorite!
All of our sage is entirely hand picked (very carefully!), hand tied and packaged with love and care. The sage comes from private land in a mountainous region around California. By picking the sage it helps spread small seeds on to the ground and gives birth to new sage plants. These perennial herbs grow naturally in their original habitat just as they have for millennia.