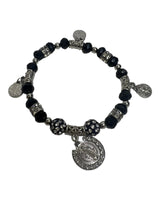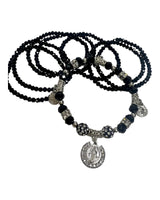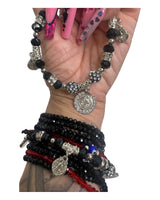 Boho Cowgirlz Boutique
St Benedict Charm Bracelet
St. Benedict  Swarovski Crystal Adjustable Bracelet
St. Benedict bracelet with the famous Eye of Nazar . This bracelet is highly effective for protection against all negative energies and anger that could affect your aura. It is filled with 3 small Nazar charms and a Beautiful large one with Swarovski  crystals and beautiful beads adorned with Swarovski crystals.

This beautiful charm bracelet is adjustable and is absolutely beautiful the added Swarovski crystals really makes this charm bracelet gorgeous. 
Adult size fits from 5 inches to 7.5 inches it stretches.
A simple and minimal bracelet for everyday use.

We also have a large collection of Evil Eye protection Jewelry
Αbout evil eye