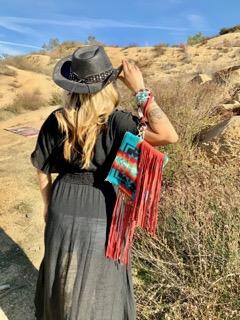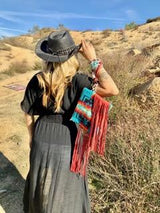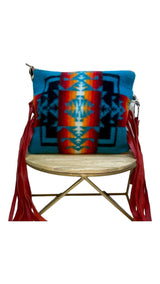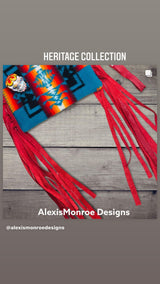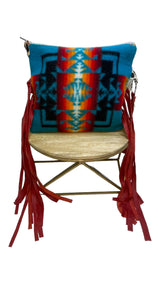 Alexis Monroe Design
Navajo Blue
Navajo Blue Pendleton TM is Truly a statement piece for any wardrobe can be worn during the day or evening wear. The red leather contrast with the shades of vibrant blue on the Pendleton wool and long Leather hand cut fringe ,with the red wristlet makes this clutch an amazing accessory to your wardrobe.
Pendleton Wool and Leather hand cut fringe definitely will always stand out in a crowd.

Alexis Monroe Designs are unique "One of a kind " or Limited edition.

The designs are unique and very different each piece was individually designed from the initial sketch, to the Leather and Pendleton wool fabric picked and used for each clutch , wristlet or purse.

The purses are made from genuine Pendleton wool blankets or vintage Pendleton wool fabric and mixed with leather. Each one is unique it has its own character.

All of the purses are definitely a conversation piece a wearable piece of art work.

The detail in each is unique from the hand cut Leather fringe to the tassel or gem used as a closure.

The purses are made to last and in hopes to be shared as a heirloom to be passed down .They are created and designed with that thought in mind. To be your favorite accessory for years.


Embracing my Cultural Heritage with my Passion
For Design... Boho Gypsy Beach Vibes & Dessert Heat we bring our Culture and my love for Authentic Pendleton Wool and Authentic woven Serape in our collection.

Made in California
Pendleton Wool blanket front & genuine black leather back.
Details are long hand cut leather fringe with a cowhide leopard handle.
HANDMADE IN THE USA...One of a kind
_Authentic Leather
_Handmade
_Authentic Pendleton Wool
8.5" H x 9.5" W
Fringe 12"