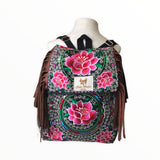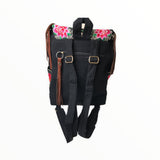 Boho Cowgirlz Boutique
Bohemian Embroidered Backpack
Beautiful Boho embroidered artisanal backpack, handsewn floral designs with leather hand cut fringe exterior. Has a beautiful leather tassel for the exterior pocket.This backpack is perfect for everyday use whether you are mom, student, travel. It is so spacious that it gives you room for your cash, camera, diapers, laptop, etc. It even has a small zipper compartment in the back for easy access to your money or anything valuable meanwhile keeping it safe.
11.5 inches L x W 5 inches x H 13 in
* 2 side pockets exterior
* 1 back  zipper pocket exterior
* Interior lined and has 1 zipper pocket
Please keep in mind that each design is handsewn and leather is meticulously hand cut leather fringe thus making each design unique.