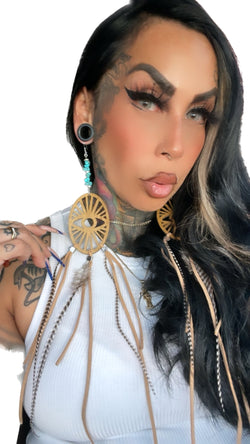 Boho Cowgirlz Boutique
Guerrera Earrings
Each one is "One of a Kind" just like you.
Handmade in my California Studio
I designed this to represent Protection to Persue your Dreams 🤍🪶 Badass Guerrera 
Handmade with Turquoise clusters and to give it a dramatic look with the contrast of the  Feather colors hang past your shoulders.
The Feather colors brings out the design in these beautiful earrings!
12"drop 
Carved Wood 2.5" wide