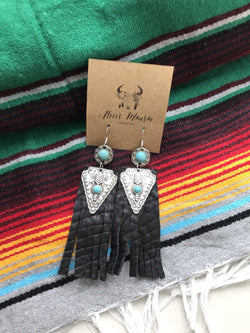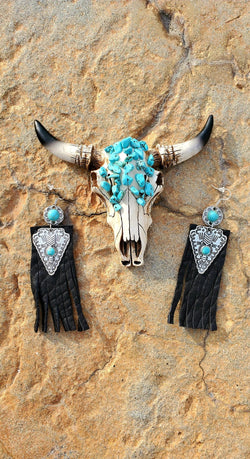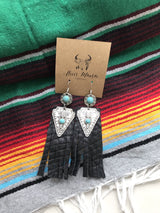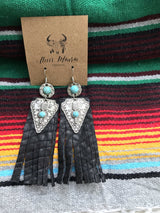 Boho Cowgirlz Boutique
Leather Aztec Black Earring
 Aztec Leather Earrings
Genuine Leather Earrings - Aztec Leather earrings are an original MADE BY ALEXISMONROE design. These black leather earrings are trimmed with stainless steel Aztec Embellishment , Swarovski Crystal and Turquoise Nuggets.
These lightweight genuine leather earrings are hand designed, meticulously hand cut. The finishing touch is some sparkle of Swarovski Crystals and the Aztec Detail. These statement yet staple earrings are simple yet bold for the most versatile wear! You will get compliments everywhere you wear them!

These free spirited leather feathers look great dressed up for a night out and every bit as amazing paired with t-shirt and jeans.

Leather earrings are very light on your ears, so they can be worn without worry from other heavy statement earrings!
They measure approximately 3.5 inch .

- Genuine Leather
- Swarovski Crystal
- Leather Fringe
- Turquoise Nuggets
- Aztec Design