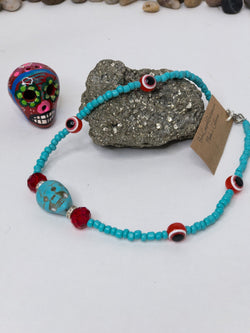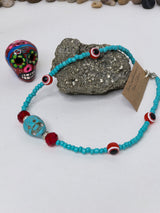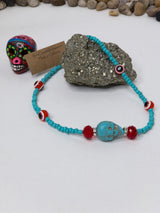 Alexis Monroe Designs
Evil Eye Calavera Heritage Collection Boho Statement Necklace
This beautiful statement "Kalavera" and Red Glass Evil Eye Necklace Strand is definitely a statement piece!
Graduated Natural Turquoise Kalavera

* Natural stones may vary in size, color or shape

It is a truly unique and one of a kind necklace.
we create unique hand-crafted wood and concrete jewelry pieces to make a bold statement. Very sleek statement pieces that will be sure and spark a conversation. Each piece is handmade and due to the nature of natural materials each piece has slight variances, which add to the charm and character of each piece. No two products will be identical since each piece is one of a kind.
Looks amazing alone or stacked with other pieces of chunky strands make it your own Swag💋
Made with A mix of beads with Bohemian Crystal's and Red Glass Evil Eye Accents
I design and create my designs with my Heritage and Culture in each price of wearable art.
Handmade in California
Follow us on our new Instagram Account for updates and Promotions!
bohocowgirlzboutique